Security by design
UX Forms has been designed from the start to keep its data and services secure. Not only in the services that are exposed publicly but also those used privately, too.
We perform our own regular security reviews of the entire platform, as well as regularly commission third-party penetration testing using CHECK Green Light service providers.
ISO 27001 certified
We recognise that, whilst technical security is important, it is also not enough on its own. This is why UX Forms is certified by the British Standards Institute to ISO/IEC 27001:2013 for
Our Statement of Applicability is available upon request.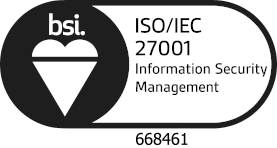 Stay in control
UX Forms stores the answers to your form's questions, using them to apply the validation rules you define as part of the form as well as to know which question should be asked next. We recognise that no two forms are the same so the amount of time we hold on to your data is defined, by you, as part of the form itself.
UX Forms automatically deletes answers to a form's questions if the form has not been returned to within the time limit you defined, and after the form has been submitted.
We only store your data for as long as you say so.
Escrow assurance
Whilst we have no intention of going anywhere, we are also prepared for the worst. Everything required to run UX Forms' platform is regularly deposited in Escrow.
So if we were to cease trading, and you were signed up to our separate Escrow agreement, you would be able to continue running your forms even without us.